From left: Lars Christian Wilde, Christian Angermayer, Florian Brand
This is part three of a six part series on the intersection of psychedelics and capitalism, and the early investors making it happen. 
For decades, the nonprofit organization the Multidisciplinary Association for Psychedelic Studies (MAPS) has been the "benevolent" king of the psychedelic castle, acting as a liaison between the psychedelic community and the regulatory agencies of the United States. They have also been making in-roads into Europe more recently. These efforts have not gone unnoticed, as many of the panelists at the 2020 Green Market Summit on the Economics of Psychedelic Investing—an investors' summit in New York City— were quick to point out.
"In 2017 we saw the regulatory agencies, particularly the FDA, is very open to new ways or new innovation in the space," said Florian Brand, the CEO of ATAI Life Sciences—a German-based biotech start-up and holding company investing in a number of psychedelic treatment options. "MAPS received breakthrough therapy designation for their MDMA-assisted psychotherapy for PTSD, in 2017."
Following MAPS' approval, psilocybin-focused, for-profit COMPASS Pathways and psilocybin-focused nonprofit Usona both received breakthrough therapy status to study psilocybin for depression.
"Regulators are clearly not a variable," added Shlomi Raz, the founder of the psychedelic pharmaceutical company, Eleusis. "They're in fact waving a green flag. They are very encouraging. They know more about this space than many of the scientists in the space, in terms of its history." He goes on to say that this is because most of the regulators have been dealing with nonprofit leaders like MAPS' Rick Doblin since the 1980s.
Nonprofits like MAPS didn't just open up regulatory pathways for psychedelics. They opened up people's wallets, too. In a ten year span—from 2009 to 2019—MAPS raised just over half as much in donations as the current leading for-profit psychedelic drug company, ATAI Life Sciences, raised in two years of existence. 
But if you break it down by year, MAPS has gone from around $1.6M from "grants and donations" in 2009, to around $19.5M in 2018. Just from the year 2017—when MAPS received breakthrough therapy designation—to 2018, MAPS increased its donations by almost $15M. This was in large part thanks to a cryptocurrency matching grant: the Pineapple Fund. The fund, which was operated by an anonymous donor called "Pine," helped raise $4M in new gifts from over 550 individuals, which Pine matched for a total of $8 million." The year 2019 saw a decrease in donations by about $8M, with around $11.83M in donations. MAPS attributed this loss to the surge in one-time cryptocurrency gifts from the prior year. 
Many of the big-money donors to nonprofits—such as millionaire investor Christian Angermayer (who donated $250,000 to MAPS' psychedelic conflict resolution efforts in 2019, and who we will talk more about later) and COMPASS Pathways co-founders George Goldsmith and Ekaterina Malievskia (who donated around $100,000 to MAPS between 2013 and 2016)—are now putting much more capital behind for-profit psychedelic ventures. 
MAPS and other nonprofit groups proved regulators were interested in helping push these drugs to market, and that there were people willing to help fund it.
Now that the nonprofits have cleared the regulatory roads and primed potential investors, there is space for new "thought leaders" to arise and seize the throne which MAPS has occupied for so long. The commandeering of this space by for-profits can't be seen as accidental, though. Doblin has been on the record in recent years saying that he believes this to be a sign of success and an inevitable part of the mainstreaming process (for more on this, see "Talking Psychedelic Capitalism in a WeWork Ballroom"). One company positioning itself to lead this industry in the era of for-profit psychedelia is ATAI Life Sciences.
ATAI was founded in 2018 by Florian Brand, Lars Christian Wilde, and Christian Angermayer. 
According to CB Insights, seed funding at the beginning of 2018 provided ATAI with an initial $12M from undisclosed investors. And, in October of that year, its series A funding secured ATAI $25M from investors like Mike Novagratz of Galaxy Investments, Icelandic billionaire Thor Björgólfsson, and mass surveillance magnate Peter Thiel. Its series B funding in March of 2019 netted an additional $43M from Pura Vida Investments' Efrem Kamen, Platypus Ventures' Tim Davis, Bail Capital, Subversive Capital, and co-founder Angermayer's own investment platform, Apeiron Investment Group. This brings ATAI's total capital raised to about $80M, and its valuation is sitting at $240M.  (Note: In a Feb. 28, 2020 report, ATAI disclosed to Business Insider that the company has raised over $100M from investors. I do not doubt this is true, but the number doesn't equal what I can find disclosed in public databases.).
With this money, ATAI has invested in a variety of mental health related ventures. Of particular note, it is the largest minority share investor in COMPASS Pathways—a for-profit mental health company focused on psilocybin production and administration. ATAI's co-founder, Lars Christian Wilde, is the president and co-founder of COMPASS Pathways (though, it seems he wasn't always listed as one of their co-founders). 
ATAI has also invested in DemeRx, a clinical-stage pharmaceutical company focused on developing ibogaine and noribogaine for the treatment of opioid use disorder; GABA Therapeutics, which is looking to bring a deuterated version of the drug etifoxine to market for alleviating anxiety; Innoplexus, a tech company which uses artificial intelligence and big data analytics for a variety of applications in life science, including drug development; Neuronasal, which is pursuing a through-the-nose concussion treatment; and Entheogenix Biosciences, a psychedelic pharmaceutical research platform. 
In January 2019, ATAI also acquired the majority stake of Perception Neuroscience, which is looking to bring arketamine to market as a less-hallucinogenic version of ketamine for treating depression.
There is an extensive web of connections between ATAI and the organizations it has invested in. As mentioned above, Wilde co-founded COMPASS Pathways. Brand and ATAI's Chief Scientific Officer Srinivas Rao both sit on COMPASS Pathways' board of directors. And, Angermayer was one of COMPASS Pathways' initial individual investors in 2017, before ATAI was founded. 
Until recently—when Terry Kelly stepped up as CEO—Brand served as CEO for Perception Neuroscience. He still sits on its board of directors, though, along with Wilde.
Rao is also the Chief Medical Officer for GABA Therapeutics. And both Brand and ATAI Chief Medical Officer, Matthias Luz, are on GABA's board of directors. 
Brand and Rao are co-founders of Entheogenix Biosciences. And, Rao is the company's current CEO. Brand is now a board member.
Brand also serves on the supervisory board at Innoplexus.
Those involved with ATAI have their fingers dipped in each other's metaphorical pies from the top level, with Angermayer's Apeiron Investment Group investing in his own life sciences company, ATAI, down to the ventures which ATAI is, in turn, funding. 
Angermayer has had a quiet hand in moving and developing capital all the way down the line. But where did Angermayer get all this capital, in the first place? To hear him tell it on the "Danny in the Valley" podcast, it all started when he was 14 and created a tutoring business. 
"I started tutoring and then I realized—[this] was maybe my first major capitalistic, if you wanna say it that way—economical, or entrepreneurial revelation, which was so simple. But, when you tutor, it's practically you selling your service," Angermayer said. "So, I was like, 'How can you scale it?' And, I started to employ people because I had a brand name, and people wanted to be tutored by me." 
Ah, the question that nags at the heart of every 14-year-old future neoliberal free-market think tank board member: "How can I scale this?"
From here, Angermayer began studying at university. In his early 20s, he became a "junior partner" at the biotech company Ribopharma, which two professors he met while on a scholarship were involved in. This company attained one of the first core patents on a technology that is now referred to as "RNAi," or, RNA interference. It is a biological process in which RNA molecules inhibit gene expression or translation. 
"Super simplified, you can block parts of the DNA out," Angermayer said. "This is very basic technology which you could use, for example, to switch off the replication mechanism of a virus." Other uses he discusses include the potential to switch off the roots of genetic diseases. 
One of Ribopharma's co-founders, Roland Kreutzer, told me that Angermayer was hired on at Ribopharma to provide "managerial expertise" and that he initially "served as a member of our supervisory board and made important contacts to several venture capital firms." Kreutzer said that Angermayer was not a co-founder of Ribopharma, however, as is claimed in many of Angermayer's biographies across the internet, including his ATAI Life Sciences bio. 
Psymposia reached out to Angermayer for comment on his involvement in Ribopharma—and to learn what managerial experience and venture capital connections he had in his early 20s—but has not heard back as of the time of publishing.
Around 2003, Ribopharma merged with the U.S. company Alnylam Pharmaceuticals, which went public in 2004. During his appearance on the "Danny in the Valley" podcast, Angermayer said that this merger was what created his nest egg to start investing.
"That was the first liquidity event," Angermayer said. "Then I decided to skip university—very cliche, as well—and, to become something between an entrepreneur and an investor."
For a similarly murky origin story featuring a supposed biotech wunderkind, check out Elizabeth Holmes and Theranos.
From this point, Angermayer went on to invest in a number of companies and produce a few movies. Eventually, he formed Apeiron Investing Group in 2011. Through this platform, he began investing money into biotech, fintech, cryptocurrency, artificial intelligence, cyber security, media, real estate, and more. 
Around this same time, Brand—the eventual CEO of ATAI—was interning at the global executive consulting firm McKinsey & Co., where he worked with Allianz financial services to develop financial literacy campaigns and social media strategies, according to LinkedIn. And, Wilde—the eventual co-founder of both COMPASS Pathways and ATAI—was getting ready to step up as CEO of another company he founded called Springlane, which wound up being one of Germany's leading online specialty retailers for kitchen appliances. After a couple brief spurts at Rocket Internet and Fab.com, Brand found himself working at Springlane, too, in a number of C-level leadership roles. 
Wilde and Brand worked at Springlane for the better part of the next seven years, and Angermayer continued investing and producing movies. But, somewhere in that time period, all three of them had powerful interactions with psilocybin. 
For Wilde, he credits his involvement with COMPASS Pathways to an experience with psilocybin that he says fully relieved him of his previously-treatment-resistant depression. 
Brand experienced a death in his family, which sent his wife into a deep depression. So, the two of them traveled to Amsterdam where she took a high dose of psilocybin and had a healing experience, Brand said at the 2020 Green Market Summit. 
And Angermayer, who claims to have never so much as smoked a joint, had a psilocybin experience on a yacht, which sailed into a jurisdiction where such substances are legal. Or, it was in the Netherlands, as he said on "Danny in the Valley." One of those, maybe. He calls this the single most important experience of his entire life, and it is something he can't quite put into words. 
Wilde became a co-founder of Compass Pathways in 2016 (though he wasn't listed as such until a couple years later), with Angermayer as one of their earliest investors. Then, the three of them—Wilde, Brand, and Angermayer—co-founded ATAI Life Sciences in 2018 to push drugs like psilocybin to market in a medical setting. 
If the money is any indication, ATAI won't be going anywhere soon. What remains to be seen, though, is how nonprofits like MAPS will hold up with for-profit competition that can wildly outpace them in funding and development. And, what those for-profit companies will do with the knowledge they produce from their developments. 
In the era of psychedelic research overseen by nonprofits like MAPS', open science and research sharing have been the norms. Scientists and researchers have generally worked in nonprofit and academic settings and had no reason to wall one another off. Think of it like open source software—software that is open to the public, which results in constant updates, improvements, and expansions. With a shift to a for-profit system, there are financial incentives for increased privatization of knowledge. 
When confronted about issues of exclusivity and privatization, for-profit COMPASS Pathways' co-founder George Goldsmith told Fortune, "Our manufacturing contracts are exclusive, in line with standard industry practice." I have a feeling that we will be seeing the "standard industry practice" line a lot from here on out. And, that's the big issue: regardless of the beliefs of the players entering this space, the standard industry practices they are utilizing are fundamentally incompatible with the altruistic narratives that psychedelic pharmaceutical companies are peddling to the public. 
As the psychedelic pharmaceutical wellness industry blooms (or withers), competitors to ATAI will emerge. And, in a closed-science world, the motives of entrepreneurs—regardless of their stated intentions—must be regarded with some level of suspicion. All that we can hope for as this transition of power occurs (and, my hopes are fairly low) is that those in charge, those with the money and power, will reflect on the context and history of the space they are commandeering. And, when they claim things like "patients over profits," I hope it's more than just public relations lip-service to get people like me to shut up.
Hey! Before you go… Psymposia is a 501(c)(3) non-profit media organization that offers critical perspectives on drugs, politics, and culture. We strive to ask challenging questions, and we're committed to independent reporting, critical analysis, and holding those who wield power accountable.


Our perspectives are informed by critical analysis of the systemic crises of capitalism that have directly contributed to the unmitigated growth of addiction, depression, suicide, and the unraveling of our social relations. The same economic elite and powerful corporate interests who have profited from causing these problems are now proposing "solutions"—solutions which both line their pockets and mask the necessity of structural change.


In order for us to keep unpacking these issues and informing our audience, we need your continuing support. You can sustain Psymposia by becoming a supporter for as little as $2 a month.
---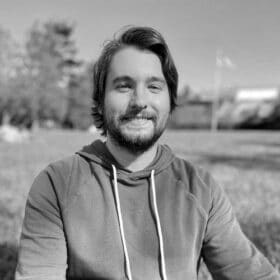 Russell Hausfeld is an investigative journalist and illustrator living in Cincinnati, Ohio. He has a Bachelor's degree in Journalism and Religious Studies from the University of Cincinnati. His work with Psymposia has been cited in Vice, The Nation, Frontiers in Psychology, New York Magazine's "Cover Story: Power Trip" podcast, the Daily Beast, the Outlaw Report, Harm Reduction Journal, and more.