Illustration by Russell Hausfeld
This is Part Four of "From Mining to Mushrooms," a series exploring the infiltration of the psychedelic pharmaceutical industry by companies, investors, and executives from extractive industry. Read Part One, Two, and Three.
To read Psymposia's interview with Thea Riofrancos, an expert on Latin American resource conflict, click here.
The Big & Dandy List of Psychedelic-Mining-Extractive Industry Ties 
Last updated June 27, 2022
This list is by no means exhaustive, but it spotlights a number of psychedelic pharmaceutical companies and executives with ties to extractive industry.
ATAI Life Sciences—See "Christian Angermayer" in COMPASS Pathways section.
AWAKN Life Sciences—a Canadian start-up that acquired the UK-based psychedelic pharma clinic Mandala Therapy Limited, which is run by psychiatrist Ben Sessa—employs Jonathan Held as its CFO. Held is the Director, CFO and secretary for Canadian gold exploration company Signature Resources Ltd.
Beckley Psytech—a biotechnology company developing psychedelic compounds into licensed pharmaceutical medicines—employs Denham Eke as its Investor Director. Eke is Managing Director of Burnbrae Group Limited, a private international asset management company which has in its holdings the mining companies Brazil Resources Inc., Condor Gold PLC, Copper Development Corporation, Regent Pacific Group, and West African Minerals Corporation. Beckley Psytech also lists as one of its major investors, Mediq Ventures, which was co-founded by James Mellon. Mellon founded Regent Pacific Group, which invests in biopharma, coal, and metal mining and exploration. Mellon also founded the uranium mining company Uramin. And, Mellon holds non-executive directorships at Condor Gold PLC, and is chairman of the Burnbrae Group, of which Eke is Managing Director.
Bright Minds—a biotechnology company working on developing psychedelic molecule alterations—was founded by Ian McDonald. Prior to Bright Minds, McDonald served on the management team at Avnel Gold, a gold mining, exploration, and development company with operations in Southwestern Mali in West Africa.
Champignon Brands—a company developing psychedelic pharmaceuticals and mushroom-based teas—employs Stephen Brohman as its CFO. Brohman holds the position of CFO for oil and gas exploration company, Gelum Capital Ltd.; CFO of Lido Minerals Ltd.; Secretary, CFO and Director at Mondor Minerals, Inc.; and CFO for District 1 Exploration Corp. Brohman was previously CFO and Director at Silver Viper Minerals Corp.; CFO of Dolly Varden Silver Corp.; and CFO and Accounting Manager at mineral exploration company Belcarra Group Management Ltd.
COMPASS Pathways—a mental health company focused on psilocybin production and administration—was founded by George Goldsmith, who also founded Tapestry Networks. At Tapestry Networks, Goldsmith helped facilitate multi-stakeholder networks between corporations and regulators in industries such as hydraulic fracturing, or fracking. COMPASS' VP of Business development, Manon Veraart also began her career as an Analyst and later an Associate in the Natural Resources Mergers and Acquisitions team of Goldman Sachs in London. Christian Angermayer, an early investor in COMPASS and co-founder of ATAI Life Sciences, is the "top investor [in Rock Tech Lithium] with an almost 20% holding." Palantir co-founder and COMPASS investor Peter Thiel also holds a stake in Rock Tech Lithium. Angermayer is also on the Board of Directors for BlackRock Neurotech, the neurotech arm of multinational investment management firm, BlackRock. In 2019, BlackRock was among the top three investors in every major public oil company except Total, and BlackRock was among the top 10 shareholders of seven of the 10 largest coal producers in the world. In 2020, BlackRock announced that a core goal for future investments would be environmental sustainability, but the firm remains heavily invested in many companies that threaten environmental sustainability (to the tune of around $260 billion invested in fossil fuel companies around the world). 
Cybin Corp—a company developing mushroom-based pharmaceutical and nutraceutical products—announced it will be going public through a reverse-takeover of Canadian mining company Clarmin Explorations Inc.
Cyntar Ventures Inc.—formerly a Canadian mineral exploration company—announced that it had acquired proprietary psychedelic knowledge from Dr. Ezekiel Golan, who is joining the company as a consultant, and the company will be changing its focus from mineral exploration to "psychedelic designer therapeutics."
Delic Corp.—a psychedelic media and e-commerce platform which took over Reality Sandwich—announced it is going public through RTO of defunct Vancouver-based mineral extraction company, Molystar Resources.
Doseology Sciences—a Canadian start-up looking to develop and sell fungus-derived pharmaceuticals and mushroom grow kits, which the company describes as being as easy as a "chia pet"—lists Scott Reeves as its Independent Director. Reeves is Director and Corporate Secretary of Frog Lake Energy Resources Corp. And, he used to be Director and Corporate Secretary at Edge Resources Inc. Both companies are oil and gas exploration and production companies.
Entheon Biomedical—a psychedelic pharmaceutical research and development company—is going public through a reverse takeover of Canadian Mining company, MPV Exploration.
Field Trip Psychedelics—a company opening psychedelic-assisted therapy centers throughout North America—was co-founded by Ronan Levy. Levy is also a partner at Toronto Gold, which buys and sells gold and jewelry. Field Trip went public through a reverse-takeover of Canadian oil and gas company, Newton Energy Corporation.
Hollister Biosciences—a Canadian cannabis company which recently announced that it was acquiring psilocybin-focused company Alphamind Brands—has a number of staff members tied to extractive industries. 
Company president

Alexander Somjen

is also president and CEO of Global Care Capital, which changed its name from Resinco Capital Partners in 2020. Somjen was president and CEO prior to the name change, as well. With the name change, Global Care Capital plans to begin investing in health care. But, as Resinco, the company was focused on "providing early stage financing to private and public exploration and mining companies in the hard rock minerals, precious metals, rare-earth minerals, oil, gas, water and renewable energy markets."

Company director

Anthony Zelen

serves as the President of Zelen Consulting Inc., a wholly-owned private company involved in investor relations, public relations and strategic marketing for the technology, cannabis, pharmaceutical, mining, and oil and gas industries. He is also on the board of Fitch Street Capital Corp. (which is invested in oil and gas) and QMC Quantum Minerals Corp. (focused on lithium, silver, gold, nickel, copper, and zinc). And, he was previously CEO and director at Calaveras Resource Corp. (focused on mineral exploration), and Head of Investor Relations for Solex Resources Corp. (focused on uranium and mineral extraction).

Company director

Patrick Morris

was previously CEO and director of Victory Mountain Ventures, focused on frac sand mining; CEO and Director of Clear Mountain Resources (now Patriot One Technologies Inc.), focused on copper and gold exploration; corporate development manager for Ashmont Resources Corp, focused on copper and gold in Columbia; and CEO and director of Gold Star Resources Corp., "Canada's first onshore Oil and Gas exploration company in West Africa."
Mindcure—a company developing psychedelic pharmaceuticals and nootropic mushroom products—employs Terese Gieselman as Director. According to her Mindcure bio, Gieselman "has over 34 years of international experience with junior mining and exploration companies listed on the TSX, TSXV, OTCBB, NASDAQ, and AMEX, in the roles of CFO, Treasurer, Corporate Secretary, and Director. She is currently the CFO and Corporate Secretary of Golden Ridge Resources, CFO and Director of Julian Resources Inc., [and] CFO and Secretary of Damara Gold Corp." And, according to his bio, Mindcure Advisor, Hector MacKay-Dunn, has acted as a legal advisor in the mining industry.
MindMed—a publicly traded company pursuing the commercialization of LSD and 18-MC—went public through a reverse-takeover of Broadway Gold Mining Corp. And, although MindMed retains no stakes in gold mining operations according to company spokesperson, Cooper Roberson, the company's co-CEO Jamon "JR" Rahn used to advise "a group of Asian investors to structure and manage commodity-streams and trading opportunities into foreign mining companies."
Mindset Pharma Inc.—a psychedelic pharmaceutical discovery business—employs Richard Patricio as a company Director. Patricio is President and CEO of Mega Uranium Ltd., a uranium-focused investment and development company with assets in Canada and Australia. The company employs James Passin as a company Director. Passin recently made headlines in the New York Times for expressing interest in investing in crude oil production in North Korea through Firebird Management, where he is a hedge fund manager. The company also employs Arvin Ramos as its CFO. Ramos has been the CFO of "several junior mining companies." Mindset Pharma is also planning to go public through a reverse-takeover of mining company North Sur Resources.
Mota Ventures—a Canadian CBD producer which recently acquired German psilocybin manufacturer, Verrian—employs two former C-level executives from Primary Energy Metals, an exploration company focused on vanadium, cobalt, copper and nickel-focused mineral resource properties. Joel Shacker—the President of Mota—was the CEO of Primary Energy Metals, and Szacha Lim—the CFO of Mota—was also the CFO of Primary Energy Metals. These connections are unsurprising, because Mota actually was Primary Energy Metals. The resource company changed its name in 2019 to Mota Ventures to reflect their involvement in the South American cannabis sector. The company had acquired NNZ Consulting Corp, which can grow non-psychoactive cannabis through its licensed subsidiary Ihuana SAS, in Columbia. Following this acquisition, on June 1, 2020, Mota acquired German psilocybin manufacturer Verrian for $20M.
Multidisciplinary Association for Psychedelic Studies (MAPS)—a nonprofit currently performing Phase 3 FDA trials using MDMA to treat PTSD— announced that their commercial MDMA is made from the starting material 5-bromo-1,3-benzodioxole—as Psymposia has previously reported—which comes from a precursor synthesized from catechol, a bulk petrochemical derived from crude oil.
NeonMind Biosciences—a company looking to commercialize psychedelic mushroom products—lists Charles Boulakia as an Advisor. Boulakia is a patent lawyer with over 20 years of experience in the preparation and prosecution of patent applications in a variety of industries including oil and gas.
New Wave Holdings—a mycology company developing mushroom-based recreational and therapeutic products—employs Kelvin Lee on its "Operational Leadership" team. Lee is the Chief Financial Officer and Vice President of Freeman Gold Corp., and was a Corporate Controller at Prodigy Gold Inc. Company Board Member Richard Carl was Director of Clearview Resources; Director of Midlake Oil and Gas Limited; CEO of the fluorspar mining company, Newspar; Executive Chairman and Director of Canada Fluorspar Inc.; and Director of Highpine Oil and Gas. 
NovaMind Ventures Inc.—a company that invests in psychedelic clinics and retreats—announced it will be going public through a reverse-takeover of Canadian mineral exploration company Hinterland Metals Inc.
Nova Mentis—a Canadian cannabis and psychedelic pharmaceutical research company—employs William Rascan as its CEO. Rascan was the Director of Alchemist Mining. And, Director Steven Feldman "was part of the original management team of SouthGobi Resources that evolved from a $20 million market cap explorer to a $2 Billion+ market cap coal producer with senior listings on the Toronto and Hong Kong Stock Exchanges," according to Nova Mentis' staff bio page.
Numinus Wellness Inc.—another company opening psychedelic-assisted therapy centers in North America—was created from the merger of Salvation Botanicals and Numinus and went public via a reverse-takeover with Rojo Resources Ltd., a mineral resources exploration and development company. Numinus Wellness employs John Fong as its CFO. Fong was on the founding team of gold mining company Rio Alto Mining.
Nutritional High—a cannabis company which just acquired Kruzo LLC, a psychedelic company that is researching peyote treatment for obesity and depression—employs Adam Szweras as its CEO and Co-Chair of the Board. Szweras is Chairman of Foundation Markets Inc., which is an Exempt Market Dealer focused on financing, advising and incubating mining, oil and gas and other resource companies, according to Szweras' LinkedIn. 
Optimind Pharma—a Canadian pharmaceutical company working to develop psychedelic-assisted therapy clinics—announced plans to reverse takeover oil and gas company, Loon Energy.
PharmaTher—a life sciences company focused on the research and development of psychedelic pharmaceuticals—employs Carmelo Marelli as Chief Financial Officer. Marelli is currently President and CEO of Canada-based mineral exploration company BE Resources Inc., and President and CEO of Royal Standard Minerals, whose subsidiaries include Manhattan Mining Co. and Kentucky Standard Energy Company, Inc. He is also currently the CFO for Globex Mining Enterprises Inc., mining company 79North Ltd., Magna Gold, mineral resource exploration company Blue Lagoon Resources, Kerr Mines, Greencastle Resources Limited, Petrolympic Ltd., Sintana Energy Inc., Eskay Mining Corp., Inventus Mining Corp., Probe Metals, Inc., Golden TAG Resources Ltd., Tintina Mines Ltd., Manitou Gold Inc., and Mega Uranium Ltd. He is the current Director of Revival Gold Inc. and Odyssey Resources Ltd. And, he was previously CFO of Rio Novo Gold Inc. and Newstrike Resources Ltd.
Psyched Wellness—a publicly traded company developing Amanita muscaria tinctures—went public through a reverse-takeover of Duncan Park Holdings Corp., which had previously focused on exploration and mining of gold and other precious metals in Canada. Keith Li was Duncan Park's CFO, and has assumed the same role at Psyched Wellness. 
Red Light Holland—an Ontario-based psychedelic truffle company—employs Kyle Appleby as its CFO. Appleby also happens to be the CFO of Tantalex Resources Corporation, which claims to be trying to supply "conflict-free, high-tech minerals…while remaining focused on increasing shareholder value." Tantalex operates lithium mining projects in the Democratic Republic of Congo, which has a long history of natural resource-related violence resulting from imperial conquest.
Revive Therapeutics—a cannabinoid-focused life sciences company which acquired psychedelic pharmaceutical company Psilocin Pharma Corp.—employs Carmelo Marrelli as its CFO. For more on Marrelli, see "PharmaTher" above, as he is also its CFO. One of Revive's directors, Christian Scovenna, is also director and Senior VP of Corporate Development for Pasofino Gold Limited (formerly Enforcer Gold Corp.).
Roadman Investments Corp.—an investment company focused on psychedelic pharma and mineral exploration—is currently involved in psychedelic pharma ventures and mining ventures, with a number of executives hailing from resource extraction backgrounds. For more specifics on Roadman, see Part One of this series.
Silo Wellness—a company creating an e-commerce platform for mushroom tinctures and developing a psilocybin nasal spray—plans to go public through an amalgamation agreement with Canadian mining and exploration company Yukoterre Resources. 
ThinkMyco—a defunct mushroom-based pharmaceutical and nutraceutical company—had a number of executives with backgrounds in resource extraction. For more specifics on ThinkMyco, see Part One of this series.
Universal Ibogaine—a company developing clinical uses of ibogaine for addiction recovery—was founded by Shayne Nyquvest (notably, the father of Payton Nyquvest, who is the CEO and founder of psychedelic mental health start-up, Numinus). Shayne Nyquvest is the former Executive Vice President of Mackie Research Capital and a founding member of the Canaccord Genuity Group. Throughout his career in these positions, he has raised hundreds of millions of dollars for Canadian resource extraction companies such as Dia Met Minerals, Winspear Resources and Aber Diamond Corp., according to company information database, AIHit. Universal Ibogaine CEO Jeremy Wheate also "has over 17 years strategic advisory experience, focused on minister-level guidance on the mining sector across over 50 projects in over 30 countries in Europe, Africa, Central Asia and the South Pacific," according to Universal Ibogaine's website.
Wesana Health Holdings Inc.—a company looking to treat traumatic brain injuries with psychedelic pharmaceuticals—completed a reverse takeover of Canadian diamond mining company, Debut Diamonds Inc.
Hey! Before you go… Psymposia is a 501(c)(3) non-profit media organization that offers critical perspectives on drugs, politics, and culture. We strive to ask challenging questions, and we're committed to independent reporting, critical analysis, and holding those who wield power accountable.


Our perspectives are informed by critical analysis of the systemic crises of capitalism that have directly contributed to the unmitigated growth of addiction, depression, suicide, and the unraveling of our social relations. The same economic elite and powerful corporate interests who have profited from causing these problems are now proposing "solutions"—solutions which both line their pockets and mask the necessity of structural change.


In order for us to keep unpacking these issues and informing our audience, we need your continuing support. You can sustain Psymposia by becoming a supporter for as little as $2 a month.
---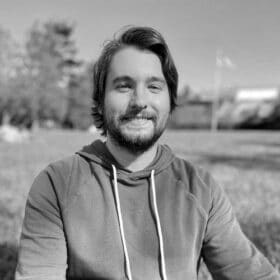 Russell Hausfeld is an investigative journalist and illustrator living in Cincinnati, Ohio. He has a Bachelor's degree in Journalism and Religious Studies from the University of Cincinnati. His work with Psymposia has been cited in Vice, The Nation, Frontiers in Psychology, New York Magazine's "Cover Story: Power Trip" podcast, the Daily Beast, the Outlaw Report, Harm Reduction Journal, and more.